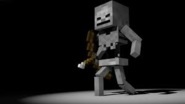 Bones appears as a boss multiple times in the MROTW games. Here's a list of 'em. (For the RPG boss fights, see here).
In the MROTW game, Bones is the boss of Snowy Winter Wonderland. He is faced at nine huge snow platforms in the air, connected to each other with bridges. Bones flies around with a jet pack, circling around the platforms. When Steve lines up with Bones, he will start shooting small energy shots (shaped like small red lasers like in Star Wars, just like all TAWPA blasters). Steve must keep on avoiding them, until Bones starts shooting arrows and flies the other way around (counterclockwise if he was going clockwise and vice versa). When these are avoided, too, Bones will throw a single Potion of Harming. Steve must hit it with his sword to throw it back at Bones, who will shoot a Fire Charge. If the Potion misses Steve or Bones or Steve doesn't hit it, the Fire Charge will destroy one of the platforms. If Steve gets hit by the Potion, the following Fire Charge will be fatal. When the two items collide, however, Bones is knocked out of the sky. Think you've beaten him ? Nope. Now he fires rockets, and slashes you with a sword if you come close. The missiles lock on on Steve, so i think you can guess how to beat: Run to Bones, avoid that bone heap's sword and have the rockets hit him. Each time they do, he flies again and it all repeats. Do this seven times and you've won.
Ad blocker interference detected!
Wikia is a free-to-use site that makes money from advertising. We have a modified experience for viewers using ad blockers

Wikia is not accessible if you've made further modifications. Remove the custom ad blocker rule(s) and the page will load as expected.